2 to 4 seconds- Generally, Logos have only this much of time to grab the attention of people.
A Logo portrays the strength of your brand. There are many brands that use only Logo to represent their company, they don't even use the company name. Have you seen the Logo of visa, MasterCard, maestro, and Paytm frequently on the internet and other places? – These companies have successfully built their reputation, and now their Logo works as their identity.
The bottom line is that when you build the reputation of your company, your Logo design sticks in the mind of your customers.
And, if you are starting up a business, a Logo might bring you the trust of customers, as people think that a company having no Logo can possibly be fake.
A Logo Brings Trust of the Customers.
A Creative Logo Defines your Business' Services and Vision.
A Perfect Logo has Unique Design, Defines your Business, and Sticks into Customers' Mind Admiringly
On the other hand, many "regularly seen" Logos don't have any impact on the customers and they go UNNOTICED. If a company's Logo is failed, people don't hesitate to MAKE FUN of the brand, like how they did with Pepsi and others.
But, we are a logo design company that makes sure to avoid all such mistakes and design striking logos for you.
Contact us and get a free quote
IBSS as a Logo Design Company in Chennai
The second step in branding – after choosing the company name- is making a Logo. Branding is very important for your success, and we are a logo design company in Chennai that designs remarkable and CREATIVE Logos for you. Our Logos are a combination of catchy design, clear message, fresh strategy, and modern technology. Our talented and creative Logo designers know well how to convey your business' message through a Logo.
We are a logo designers that takes care of your Logo needs meticulously, and we comfortably convey the strong message of your business using a Logo.
We build high standard Logos that informs company's message to the customers – a message which can be your company's vision, mission, or something that greatly matters to you. Our Logo designers have GOOD KNOWLEDGE related to all the aspects of Logo design.
Chat with us and know more
Why our logo designs are remarkable
We are a logo design company in Chennai that is aided by the latest technology to serve the modern Logo design needs
We carefully study how to design a logo before actually designing it, and this knowledge has saved us from doing serious errors that are done by others.
We are aware of TRENDS in the market. Our logo designers do well research about the Logos used by your competitors to design a perfect Logo, which is unique and better than their logo.
We are a logo design company in Chennai that understands the PSYCHOLOGY behind Logo shapes and different fonts. Circle shape for softness or comfort and rectangular for sharpness or durability – these are some of the ways in which customers depict the shapes. We vigilantly choose the Logo design based on WHAT YOU WANT THE CUSTOMERS TO FEEL.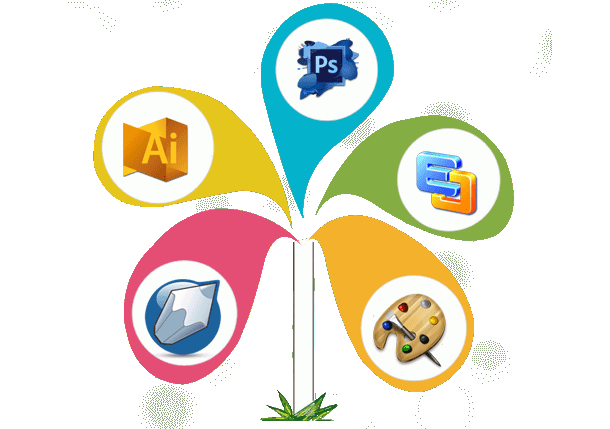 We know how customers depict each color in the Logo, so we choose colors depending on WHAT YOU WANT to convey. Yellow for cheerfulness, purple for royalty and luxury, blue for calmness and safety – these are some of the psychological concepts behind colors. We match our logo design with your message.
We are a logo design company in Chennai that chooses the color combination carefully with DETAILED RESEARCH; after all, an outstanding color combination is what captures customers' attention. Our logo designers will choose the best combination of colors for representing your company's theme
Try our services
We DON'T like the Logos that become blurred on changing the size, so we keep the resolution in mind while creating the Logo. We mostly use vector images to get a perfect logo at any size
We take feedback from different people after creating mock Logos - be it staff, common people, target audience, or you. We love to know different opinions and then we MODIFY the logo design according to what is best.
2D or 3D Logos, we design them all wonderfully. We are a logo design company in Chennai that loves creativity.
We make your Logo design unique, yet having complete relevance to your business, and we convey your message clearly using the logo.
We are a logo design company in Chennai that develops new Logos and also updates previous Logos of the clients.
Our logo design company is competing against some of the best logo designing companies in Chennai. We provide high-quality logo design services at reasonable prices to become a top logo designing company in Chennai.
We care a lot about customer satisfaction. That's what makes us standout from the rest, just as what one of our clients said:
" Efficient and friendly people who are expert in generating Creative Ideas, making Stunning Designs and producing Quality Work. They Standout from the crowd and offer cheap & high quality services. Our Thanks to IBSS Team."
- Our client
Get in touch with us to know more info
OUR APPROACH
GATHERING INFO
We meet clients to know them and their business - its story and aims. We also enquire the client about their ideas for Logo design. We explain them different aspects of Logo design that they might be unaware of, and then we try to know their opinion. This step helps us to build a Logo like how client wants, and in an exceptional way.
STRATEGIZING
Our team members discuss client's project and develops a theme and message. Our logo design company in Chennai researches different concepts to find out which strategy suits best for the client.
LOGO DESIGNING
We bring the strategy and concepts into reality by designing exceptional Logos for the client. We choose perfect combination of colors, shape, technology, and discover the best way to represent your company
REVIEWING AND REVISING
We share our creative Logo design with the client to know their opinion. We revise the Logo (if needed) as per client's directions. This is done until the client is satisfied with the design
We get clients' love after the hardwork, and that is what matters the most!
LAUNCHING
We launch the Logo and transfer all the rights of ownership to the client.